Urban Ramzan: Meals and Deals – KHI Edition
Your one-stop shop for all the Iftar (and Sehri) offers in Karachi.
The Buffets
Cafeela:
Can't go wrong with this one – they offer solid, good quality food that's clean and predictable. Fairly good value for money too – Rs 2250 plus tax, so that's round about Rs 2500 a head. The good news is that there's a bunch of bank discounts too. The menu is mostly desi with some Chinese and a pasta thrown in for good measure.
BBQ Tonight:
Another no risk option. The food is clean, tastes good and their buffets are generous – with a mix of barbecue, desi, Chinese, some sea food and those lamb chops. They have different prices for different outlets though. Lucky One Mall is Rs 2000, Malir Cantt Rs 1800, and Boat Basin is Rs 2400. Now add tax.
Movenpick:
This time it's by the poolside and not inside Al Bustan. Honestly, I've been disappointed with their hi-tea and iftar every single time. The food is barely average and the variety is just boring. With a price tag of Rs 3999 plus tax, you'll have to really think about this one. The Kababji iftar is for Rs 4500 plus tax.
Tao Pan Asian:
Their food is a little too spicy for me but it should hit the spot for most people. The good thing is that they have all their most popular menu items on the Iftar buffet – the dynamite prawns and chicken, Korean fried chicken and chicken chow mein. So, it's a pretty hearty affair for Rs 2400 plus tax.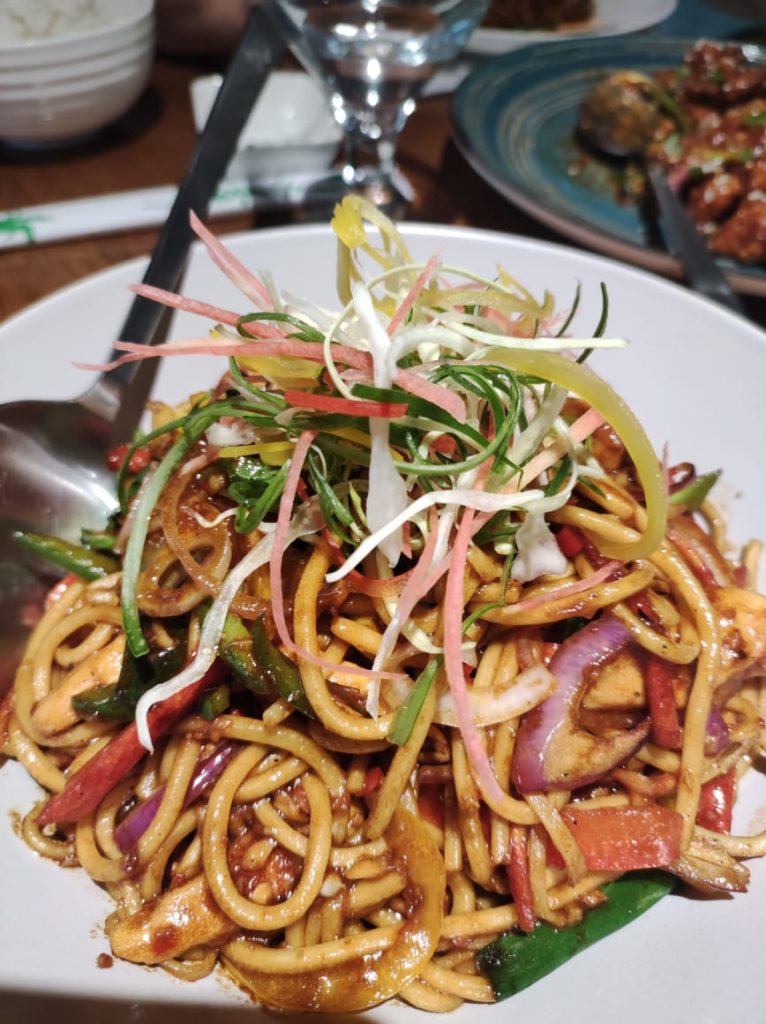 Pearl Continental:
The Iftar is priced at Rs 3990 plus tax. Which put both the hotel buffet options so far at about Rs 4,500. Which sounds criminal in this economy for food that's going to be average at best. The good news: some bank cards can get you up to 50% off.
Asia Live @ Avari:
This place has the best food of any hotel in Karachi. The variety is fantastic, and the service is great too. From Lamb Ouzi to Thai Curries, they have it all! Which makes it a little bit pricier than the rest. In fact, they are being a little bit sneaky and haven't announced prices yet on social media. But we got in touch and it's Rs 4500 plus tax. That Avari Gold Card would come in handy right about now.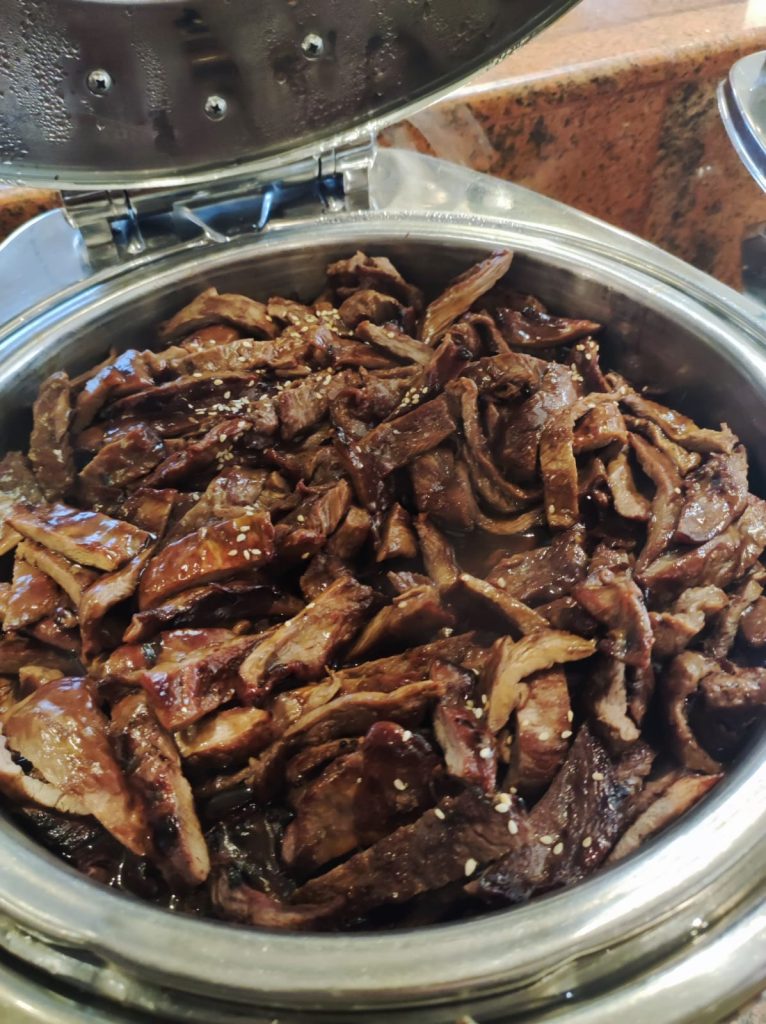 Cocochan:
I really like their buffets. It's actually better than their ala carte experience. The Iftar buffet is generous and freshly prepared, as is the Sehri. But the Sehri offers some really good value in terms of the price. The timing is off though – 11 pm to 2 am. That's a little early for Sehri. This year, the Iftar is priced at Rs 2290 plus tax and the Sehri is Rs 1490 plus tax. Last year, bank discounts did not apply to these prices but worth checking again this year.
Aylanto & Fuschia:
The two restaurants have teamed up to really bring us the best of both worlds. Aylanto definitely had one of the most luxe iftar buffets I have experienced in Karachi. Now with the added charm of Asian specialties from Fuschia, I'm pretty sure it's going to be amazing! But they are also being sneaky and haven't shared any prices on social media.
Rosati Bistro:
Second only to BBQ Tonight, Malir Cantt in terms of pricing, they're offering a pretty big menu! It's for Rs 2000 for adults and Rs 1200 for kids, plus tax. But really, chilli garlic sauce isn't a dish or any other sauce for that matter.
Chaupal Desi Exotic Buffet: This eatery probably has the most extensive menu I have seen thus far. From Fried Batair to Beef Lasagna. It covers the whole spectrum of Desi to Continental to Chinese, and some Middle Eastern and Japanese thrown in for good measure. The Iftar Dinner Buffet is for Rs 2850 plus tax, while the Sehri Buffet is for Rs 1770 plus tax.
Naerok: Karachi's only Korean BBQ spot has also gotten in on the Iftar Buffet action. It's for Rs 2500 plus tax and has a pretty good menu.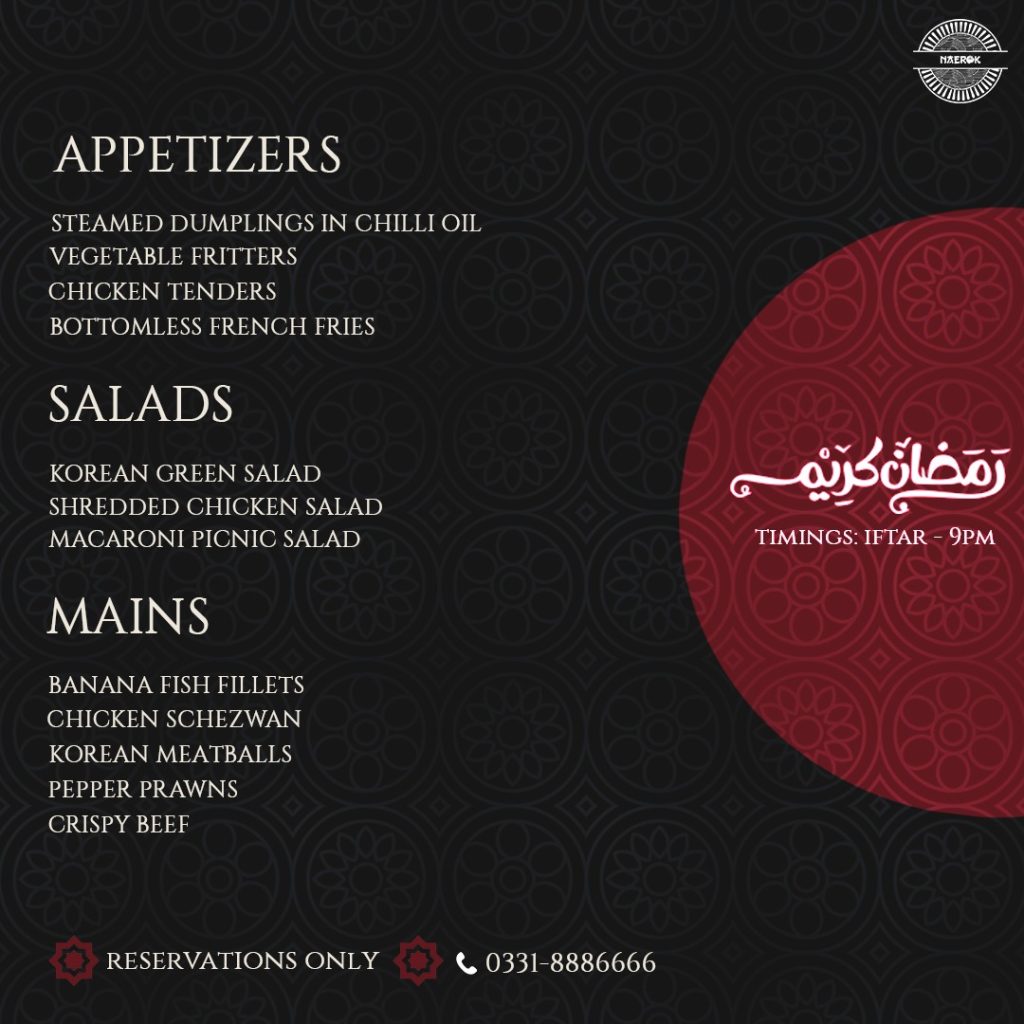 The Meals Deals
Koel:
This art cafe is really offering the best of both worlds. There's a complimentary Iftar buffet with your set meal for Rs 2300 plus tax. That said, the cafe's once creative menu has lost a little bit of it's flair and flavour. Here's hoping they can bring it back. And with better service.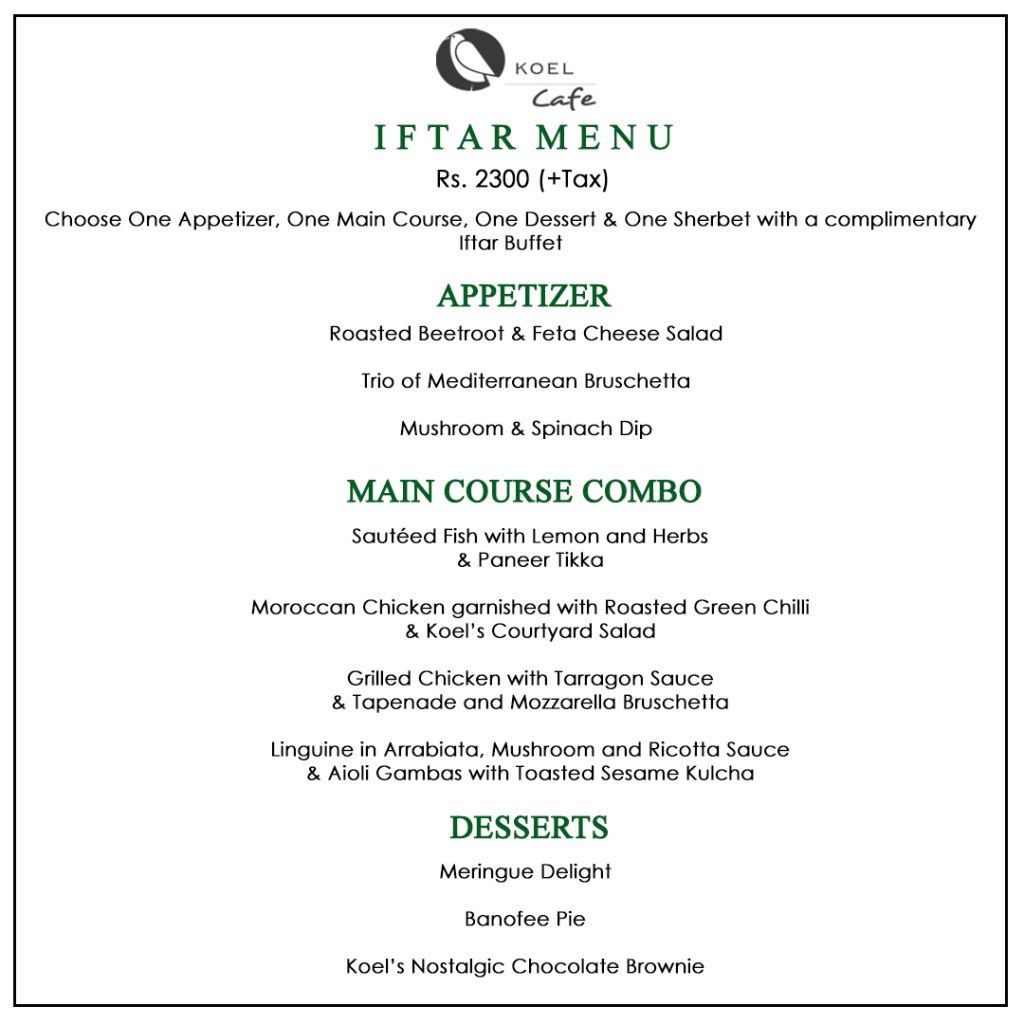 Chop Chop Wok:
The one that started the whole Pan-Asian bowl trend. CCW has a pretty sweet set meal for Rs 1590 plus tax. Choose between dumplings or spring rolls as your starter, any three step wok, a bowl of fruit, mint lemonade and gelato to finish it off. It's actually pretty good. Last I remember, they also used to give complimentary dates and water as well but not sure about this year.
Manhattan Express:
This friendly coffee house adds another New York classic to its new menu. Or a version of it, at least – a shawarma chicken rice meal. Its loaded with pickles, sauces and most importantly lots of chicken. The Ramzan meal set has four of these boxes, with two orders of fries, hummus, pita chips and a 1 litre bottle of Coca Cola for Rs 2995 plus tax. This should easily feed 6 to 8, imho. Although, Manhattan Express says it's for 4 to 6.
Cluckys:
But if it's fried chicken burgers you're craving, Cluckys looks like a pretty good deal. Although it is super annoying when fast food outlets won't include fries or a drink in their meal. Do what you have to, but make a good meal for us.
Famous O's Pizza: They're keeping it simple. Between Midnight and 4 am, buy one slice of pizza and get another one free. Works for me. For all the other hours, you get your second pizza at 20% off with a free bottle of Coca Cola.
2 Guys 1 Grll: The OG Donut Burger guys have an Iftar box for Rs 3100 plus tax. It has 5 fried chicken sliders, 4 beef sliders, 1 sriracha fries and 2 chicken tenders. Good for four people I imagine. They also have an all-you-can-eat for Rs 1600 plus tax with a bunch of rules. Better check those before you work yourself up.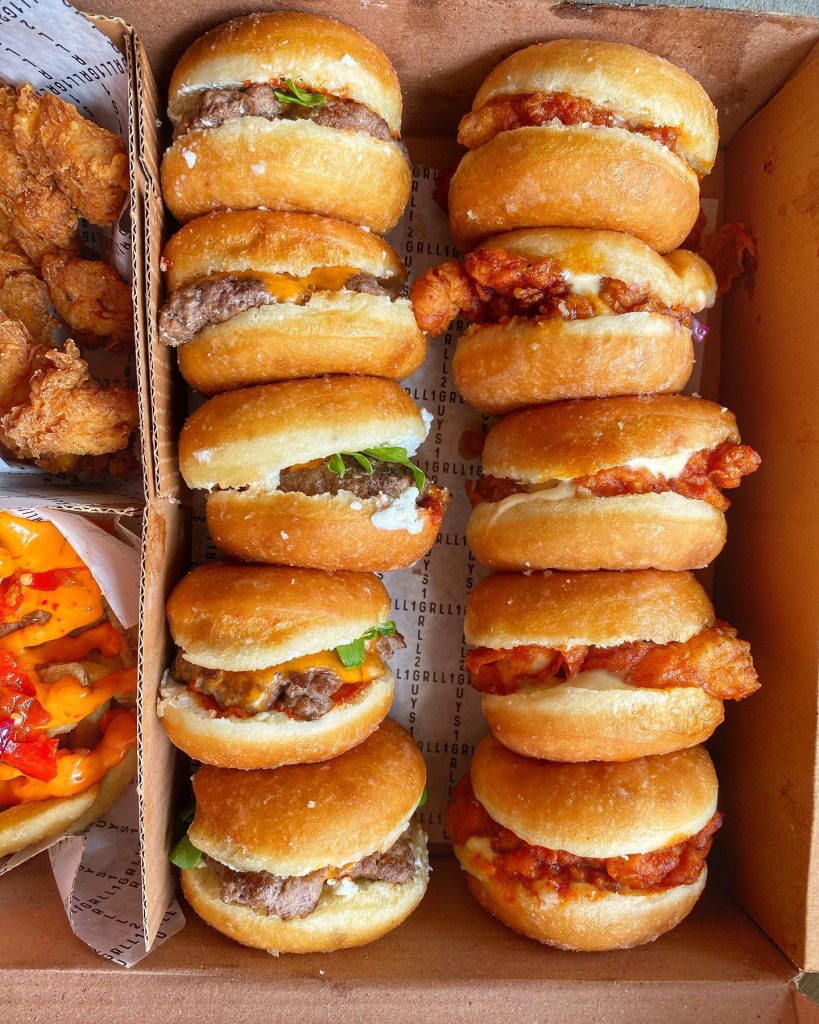 Got a deal you want us to share with the rest of Karachi? Let us know in the comments section. We'll keep updating the list, so bookmark this page.