Best Dressed @ BAFTA 2023
Our picks for the best-dressed ladies on the red carpet.
There are winners and then there are red carpet winners. We're taking a look at the latter.
Hoyeon Jung in Louis Vuitton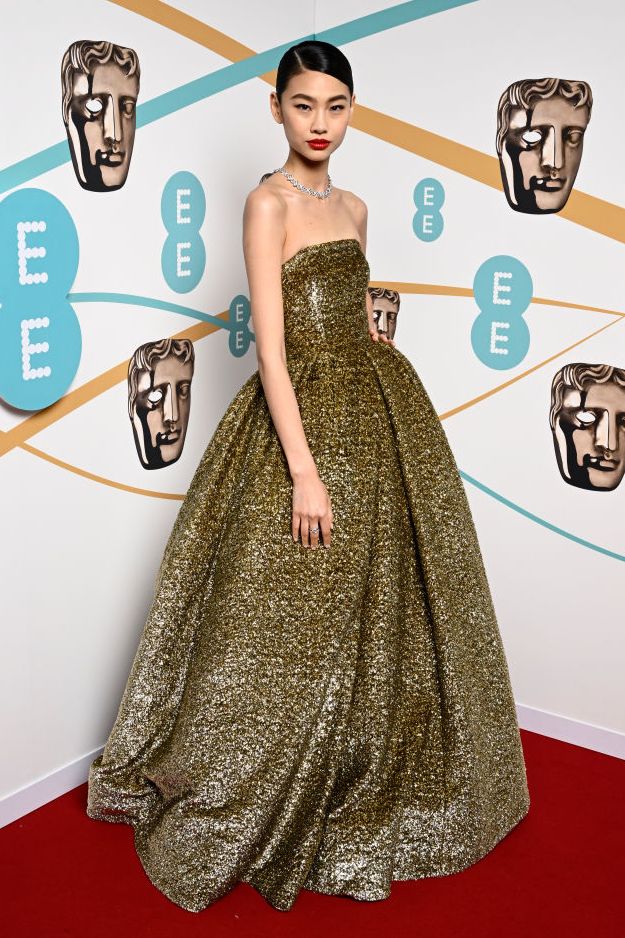 Hoyeon Jung made a stunning appearance at the BAFTA red carpet event, radiating glamour and sophistication in her choice of outfit. Her strapless, gold Louis Vuitton ballgown caught everyone's attention and turned heads with its luxurious design and intricate details. The fitted bodice and voluminous skirt added the perfect balance of structure and flow to the gown, while the golden hue complemented her skin tone beautifully.
To complete the look, Hoyeon opted for a side-parted slicked-back ponytail, which added a touch of elegance and sophistication to the overall aesthetic. The sleek style also accentuated her facial features, drawing attention to her bold red lip, which served as the perfect complement to the warm gold tones of the gown.
But what truly elevated the look was the statement diamond choker adorning her neck. The sparkling accessory added the perfect touch of glamour and drew the eye upwards, highlighting her neckline and completing the overall glamorous look. Hoyeon Jung proved that she is not only a talented actress, but also a fashion icon with a keen eye for style and attention to detail.
Cate Blanchett in Maison Margiela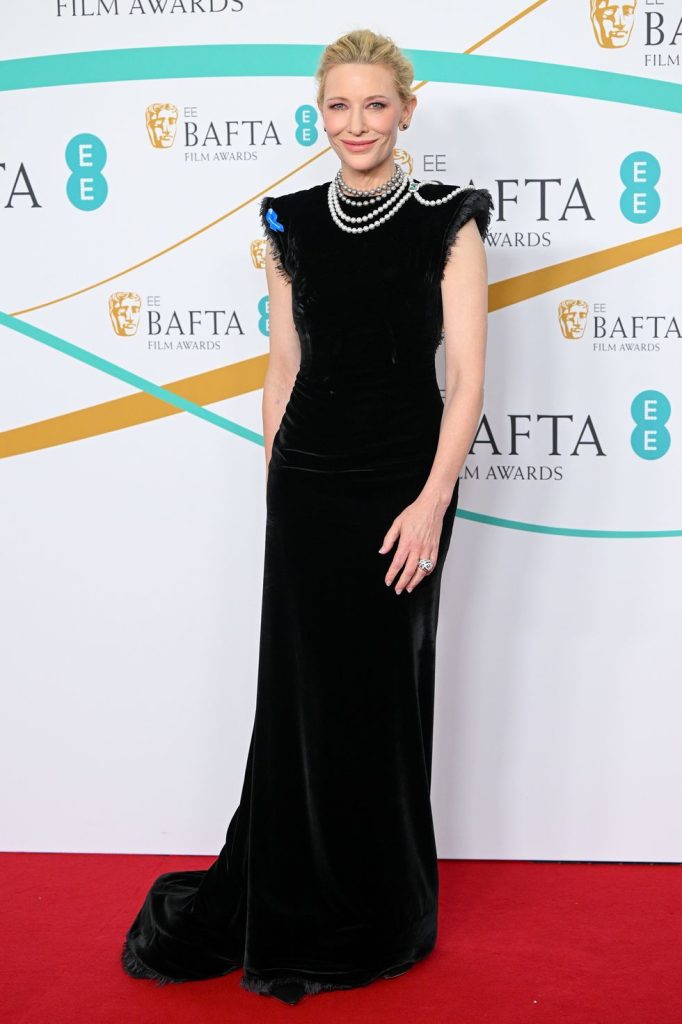 Cate Blanchett is known for her sustainable fashion choices, and she proved it once again at the latest red-carpet event by recycling a Maison Margiela gown that she had previously worn to the BAFTAs in 2015. The timeless and elegant design of the gown still looked just as stunning on her as it did six years ago. The gown, which had a classic silhouette and was made from luxurious materials, was a perfect choice for Cate's sophisticated style.
To add a touch of modernity to the outfit, Cate accessorized with Louis Vuitton pearls, which served as a statement piece that elevated the look. The pearls, which were likely crafted with care and attention to detail, complemented the simplicity of the gown and created a well-rounded aesthetic. The contrast between the classic gown and modern pearls created an interesting juxtaposition that was both stylish and edgy.
Cate Blanchett's outfit proved that sustainable fashion can be chic and stylish. By reusing a gown from her wardrobe, she showed that she is committed to reducing waste and promoting eco-friendly fashion choices. Her outfit was a testament to her unique style and her ability to make any outfit look effortlessly elegant.
Cynthia Erivo in Louis Vuitton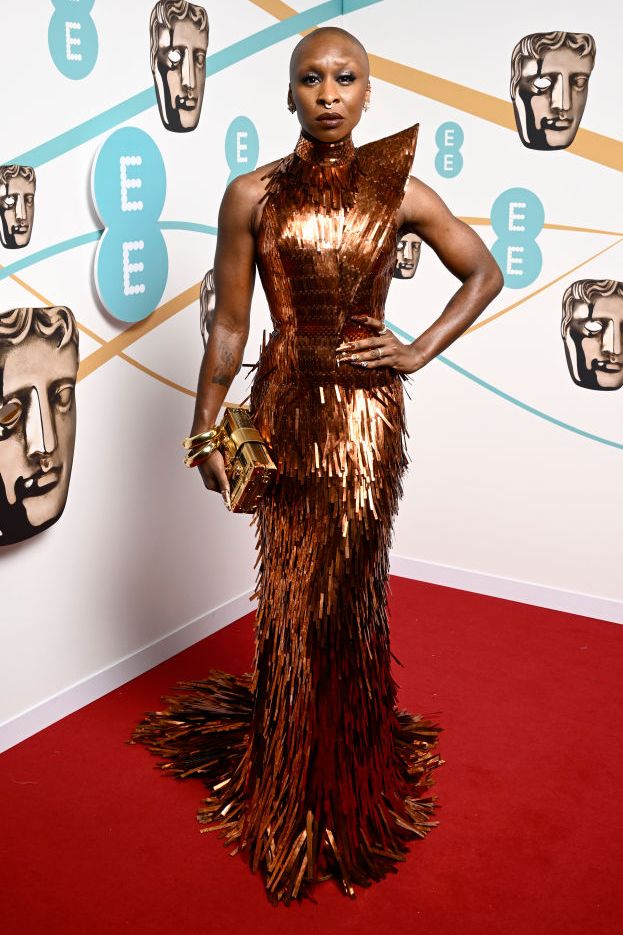 Another flawless Louis Vuitton look from the BAFTAs.
Cynthia Erivo is known for her bold and daring fashion choices on the red carpet, and her choice for the 2023 BAFTAs is no exception. Her bronze sequin gown by Louis Vuitton is a show-stopping piece, featuring intricate detailing and a long train that adds a touch of drama to her overall look. The interesting shoulder detail adds an extra element of intrigue to the gown, making it a memorable and unique piece.
Erivo's choice of colour is also notable, as bronze is not a colour often seen on the red carpet. However, it complements her skin tone beautifully and adds a warm, luxurious feel to her overall look. The gown's sequins catch the light perfectly, adding a touch of sparkle and glamour to the ensemble.
Overall, Cynthia Erivo's fashion choice for the 2023 BAFTAs is a stunning example of how to make a statement on the red carpet while still looking elegant and sophisticated. She proves that taking risks can pay off in a big way, and her daring fashion choices continue to inspire and captivate audiences.
Julianne Moore in Saint Laurent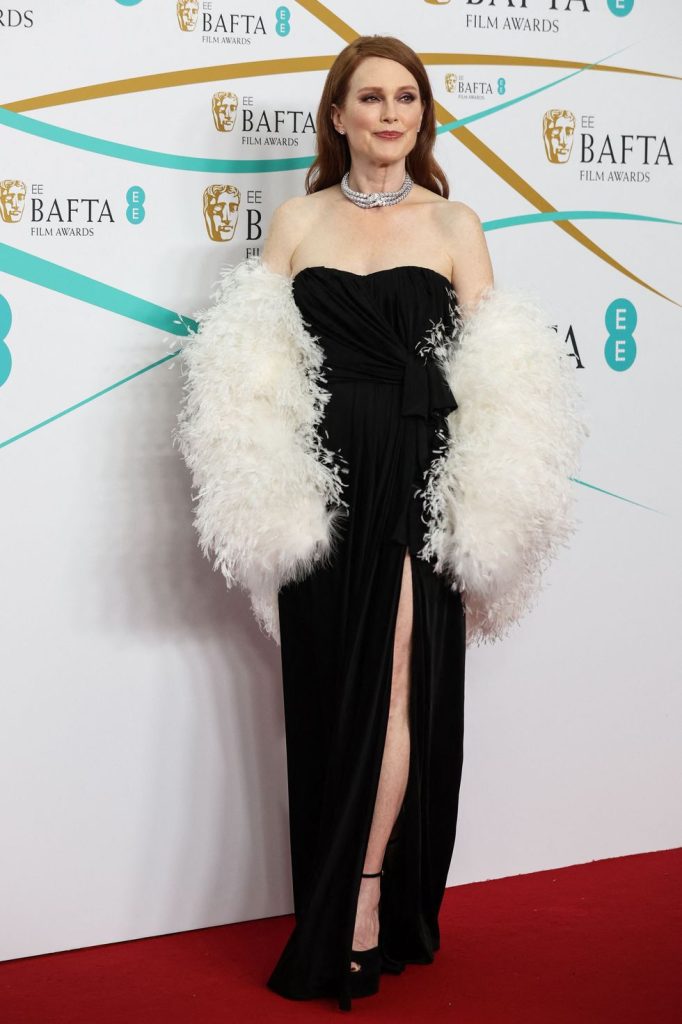 Julianne Moore's choice for the evening of a simple black gown by Saint Laurent is a timeless and elegant choice. Black is a classic colour that never goes out of style, and the sleek silhouette of the gown accentuates her figure beautifully. The dress's understated design allows for her accessories to take centre stage and showcase her personal style.
Moore's choice of a white feathered shawl adds a playful touch to her overall look, providing an unexpected element that elevates the simple black gown. The shawl's feathers add textural contrast to the smooth, satin finish of the gown, making the look more interesting and dynamic. This also shows how adding a statement accessory can make all the difference to an outfit.
Her choice of accessories is also noteworthy, with the Bulgari necklace adding a touch of glamour and sophistication. The necklace's delicate design complements the simplicity of the black gown, while still making a statement. Additionally, the platform heels give her extra height and elongate her legs, adding a touch of modernity to the overall look.
Overall, Julianne Moore's fashion choice for the evening is a stunning example of how simplicity can be elevated with statement accessories. Her fashion sense is elegant, timeless, and effortlessly chic, proving that sometimes less is indeed more.
Florence Pugh in Nina Ricci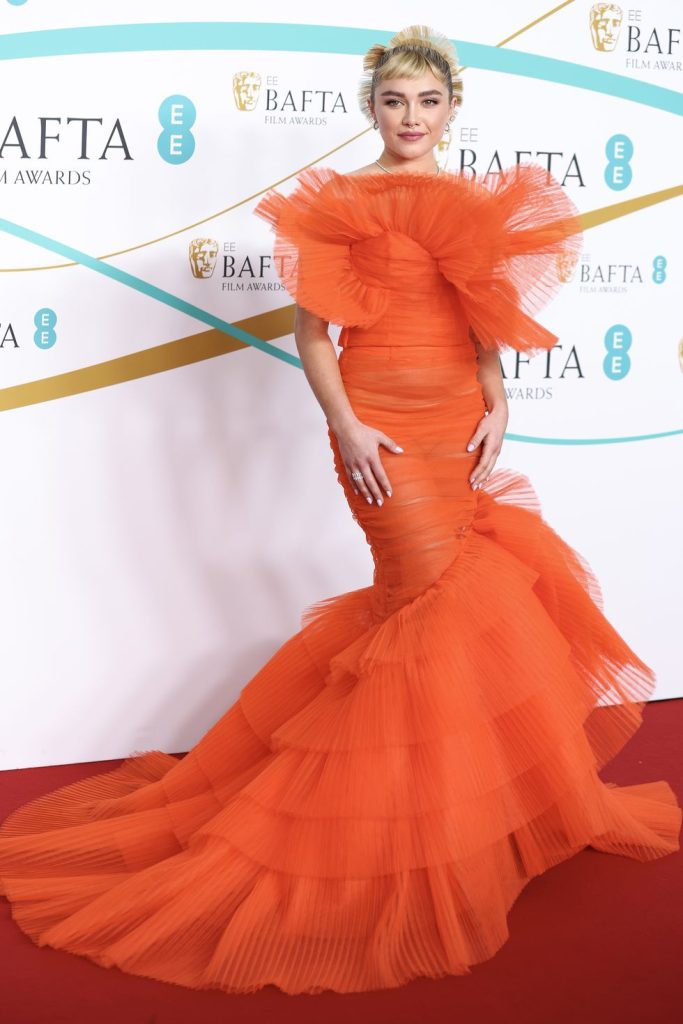 For the Nina Ricci dress that Florence Pugh wore, Harris Reed drew inspiration from the brand's archives and updated the design with their signature flair. The dress features a fitted bodice with a high neckline and long sleeves, while the dramatic fishtail skirt adds a touch of drama and glamour. The bright orange colour adds a pop of colour to the design, making it stand out on the runway and on the red carpet.
Florence Pugh is a talented actress known for her roles in films like "Little Women" and "Black Widow." She has been a strong supporter of Harris Reed's designs and has worn their creations on several occasions, including at the 2021 Met Gala. By wearing Harris Reed's designs, Florence Pugh is not only showcasing their talent but also promoting gender-fluid and boundary-pushing fashion in the mainstream media.
Overall, Harris Reed's collaboration with Nina Ricci and Florence Pugh's support for their designs highlights the importance of diversity and inclusivity in the fashion industry. It is exciting to see emerging designers like Harris Reed making a name for themselves and challenging traditional fashion norms.