Golden Ticket for Startup Founders!
CIRCLE brings She Loves Tech back for its 7th year.
She Loves Tech is a global startup and tech competition with a strong focus on empowering women entrepreneurs. CIRCLE Women Association, a women-led startup has been bringing She Loves Tech to Pakistan for the last seven years consecutively with support from HBL and building upon the success of previous editions.
In a nation where the percentage of female entrepreneurs is merely one percent according to the World Bank, women who own businesses encounter a wide array of obstacles. On the other hand, She Loves Tech Pakistan tops the list of top 10 rounds with the most applications in 2022 amongst 70+ countries where the competition is taking place.

She Loves Tech, plays a vital role in nurturing young startups and transforming their ideas into tangible realities and stands out for its prize funding of up to $100,000 connecting female entrepreneurs with a network of 50+ ecosystem partners, inspirational role models and mentors while building their capacity with the help of specialized curriculum. The winner from Pakistan will get the chance to go to Singapore for the She Loves Tech Global finale and Conference.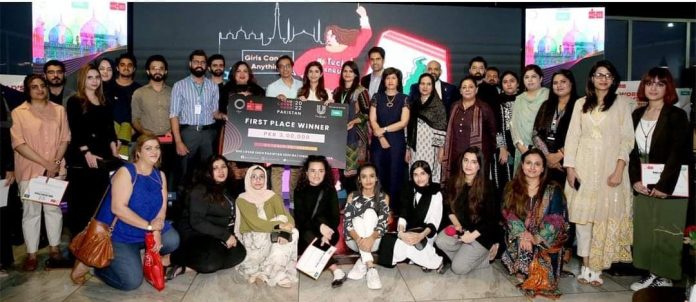 Commenting on the initiative, Sagheer Mufti, Chief Operating Officer – HBL, said, "At HBL, we believe that women play a key role in our economy and society. They are entrepreneurs, innovators, and change agents and thus have much to offer. This competition provides women with the opportunity to put forward technology based innovative ideas and get the needed support to succeed. We are committed to supporting and building an inclusive ecosystem for all Pakistani women, and we believe that She Loves Tech is a key enabler in this journey."

Sadaffe Abid, Founder CIRCLE Women expressed her motivation for bringing the competition to Pakistan, stating, ""Supporting women entrepreneurs is not only a choice; it is a vital necessity of our time. By bridging the gender gap in entrepreneurship, we unleash the untapped talent and creativity of our women to solve challenges of our times. Embracing women in their entrepreneurial pursuits goes beyond business creation to building resilience, uplifting families, empowering generations and cultivating vibrant communities."

She Loves Tech 2023 is taking proactive steps to foster dialogue and collaboration between government officials and industry leaders for financial inclusion of women. As part of this effort, round table conferences will be organized, aiming to collectively develop policies that establish a supportive environment for women entrepreneurs and facilitate their thriving participation in the dynamic startup ecosystem.

"It has been a phenomenal experience being part of She Loves Lech Pakistan, all thanks to CIRCLE! She Loves Tech made me realize that I'm not alone as a woman entrepreneur and has given me a community that I can call my own and rely on whenever need be. The guidance provided at the boot camp and by the mentors were monumental in shaping us towards our win!" shares Dr. Sarah Alam, Founder Tibbi.pk and Winner She Loves Tech Pakistan 2022.

She Loves Tech this year is set to include local rounds in Islamabad, Karachi, Lahore, Multan, Faisalabad,Sukkur, Quetta, Hyderabad and Gilgit amongst the 15 participating cities. As a part of the outreach efforts, the She Loves Tech Pakistan team will be traveling to six out of nine cities and hold the rounds on ground and connect with the startups in person. The goal is to reach and empower 25,000 young women throughout Pakistan, providing engaging pitches, enlightening panel discussions, inspiring talks, digital boot camps, and workshops tailored to their needs.